Content of the article
The city has proclaimed June 14 Okîsikow Way Day, in honor of a downtown avenue that was renamed more than a decade ago to recognize victims of domestic violence.
Content of the article
An event took place last week where Coun. Anne Stevenson, acting on behalf of Mayor Amarjeet Sohi, made the announcement.
Okîsikow Way, a stretch of road formerly known as Avenue 101A between 96th and 97th Streets, received its name exactly 11 years earlier using the Cree word for angel. The awareness effort for victims of domestic violence follows a national movement started in Nunavut in 2007.
Stevenson made the calendar proclamation on a rainy Tuesday to a packed house at the Nook Cafe near the western end of Okîsikow Way, where several community members, including Karen Mackenzie, addressed the audience.
MacKenzie recalled that there was also rain the day the city launched the new name in 2011.
Content of the article
"The rain are the tears that have been shed for all those women, gender diverse families and children who have been impacted by domestic violence," she said. "It's among us. We talk about it and then we do nothing.
Based on police data, Statistics Canada figures show a rate of 288 victims of intimate partner violence per 100,000 people aged 15 and older in Edmonton in 2018, 83% of whom were women.
"Okîsikow Way honors all those people who have suffered," MacKenzie said. "And it also asks us, as members of the community, to honor them, to do something and to know that they are our neighbors."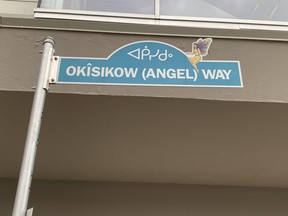 She also took the opportunity to draw attention to the location of the city's westernmost sign, which sits almost hidden from the corner, several meters east of the intersection of the 97th street.
Content of the article
Delivering the proclamation, Stevenson said she would make a "first thing" call on Wednesday morning to have the sign moved – a commitment that earned raucous applause from the audience.
More than just a traffic sign, the turquoise street blade is also a work of art, with a fairytale woman resting above the name 'angel'.
The street blade of Okîsikow Way, formerly 101A Avenue between 96 Street and 97 Street, was designed by artist Gloria Neapetung.
It was designed by Gloria Neapetung, a member of Yellow Quill Treaty 4 First Nation who was born in Saskatchewan and lived in Edmonton before her death in 2016. Tuesday's event also served to celebrate her life and work.
Neapetung's sister, Sheri, of Prince Albert, Sask., has traveled to Edmonton for the time being. She said her brother was probably thinking of street youth and abused women when creating the design.
Content of the article
"She thought they were angels," Sheri Neapetung said. "That they were of a higher power to endure such suffering and the circumstances behind their way of life."
His eyes filled with tears as he thought of his sister and the lasting impression her work will have on the town.
"She's been through so much in her life, and it means so much to people to honor her for something she loved to do."
A residential school survivor, Gloria dabbled in drawing as a child, Sheri said, but blossomed as an artist later in life while incarcerated.
After a boyfriend fatally stabbed two men in Regina in 2004, Gloria pleaded guilty to being an accessory after the fact and spent nearly four years at Edmonton Women's Institution, where she sketched and at the request of the prison, painted murals inside the facility.
Even then, his work featured fairy creatures and butterfly-winged women.
"She found her outlet through art," Sheri added, comforting herself with the idea that some kind of angel watches over Okîsikow Way passers-by.
— With files from Postmedia