You are sure to experience the meaning of the season when you visit a man who embraces the holiday spirit of giving to others.
FOREST GROVE, Ore. – Rain falls in buckets on a freezing winter night and the landscapes are inundated with freezing cold, but in Forest Grove there are waves of good humor and a unique holiday spirit of the Santa of Willamina avenue.
Willamina's Santa Claus Avenue heats up with friendly greetings for those who stop by, with "Well, hello, how are you tonight?" Come see Santa Claus?
Mickey Johnson has played the role of White Beard for almost thirty years and here, in his annual performance in the court on Willamina Avenue, since 2005.
Rehearsals began weeks ago when family and friends lent a hand to the retired drama teacher and built his North Pole.
RELATED: Grant's Getaways: Candy Cane Express
A dozen 8-foot-tall wooden ghost trees, along with a full-size hardwood snowman, each adorned with hundreds of twinkling lights, surround the centerpiece – a large wooden sled. The sleigh is painted in glossy red and green with two large initials, "SC", on either side.
There is no doubt to the casual passer-by that Johnson possesses a huge holiday yard extravaganza. Plus, he built all the sets, including Santa's sleigh.
Nearby, his daughter, Cheryl Aamodt, paid special attention to a sign of the season that keeps memories of a not so distant time. The sign read: "Donations accepted for the Leukemia and Lymphoma Society. "
"Well, I felt tired. Just tired, but that's not unusual for a person of four and my full-time job as a nurse," Aamodt said. "So I went for a lab test and they said, 'Uh Cheryl, your white blood cell count is soaring. You have to see an oncologist tonight.'"
Grant's Getaways: Willamina's Santa Claus Avenue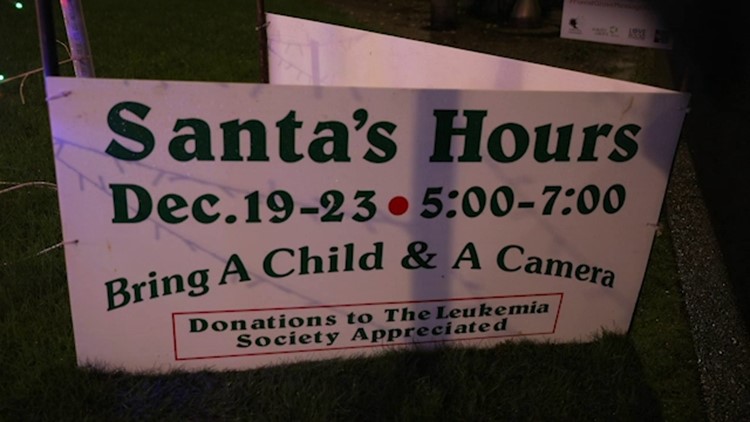 Aamodt was diagnosed with leukemia in 2000. The diagnosis led to dark and uncertain times until doctors at Oregon Health and Sciences University developed a cancer drug that saved his life.
"This is what has kept me alive for the last 20, almost 22 years," Aamodt said.
She is in remission, is feeling well and her outlook is good.
But his father, Mickey Johnson, wanted to do more. He called it "reimbursement".
"I decided to come here with this idea," Johnson said. "It's free for anyone who wants to come and if they want they can donate to the Leukemia Society."
His idea seemed perfect to him since he had built many sets for plays in high school.
For the lifetime role honoring the life of his daughter, Johnson becomes Santa Claus for five nights before Christmas.
"It was already in his wheelhouse," Aamodt said. "He already had the Santa costume and he had built a lot of sets because of his connection to the community theater in Forest Grove. As a high school drama teacher he had done so many productions."
"It doesn't take a lot of motivation," Johnson said. "As long as I have kids coming and they're apparently having a good time. I'm having a lot of fun with them. Not the typical Santa Claus."
He asked a young person what he would like Santa Claus to bring for Christmas. The youngster was silent and Santa replied, "Oh, don't you know? Well, you know what I bring if you don't know? Socks and underwear."
RELATED: Grant's Getaways: Dungeness Crabs Are Back and Ready to Eat
It's a lot of fun and smiles erupt as Willamina Avenue Santa Claus spends time with the young people, who are filled with wonder and grace.
"I have been a teacher for 28 years and have always loved working with children. It's just part of my makeup, just part of my nature !."
You'll want to hurry here soon. Santa Claus can be found at 1901 Willamina Avenue in Forest Grove.
Be sure to follow my adventures in Oregon via the new Grant's Getaways Podcast. Each segment is a storytelling session where I tell behind-the-scenes stories of four decades of travel and TV reporting.
You can also read more about many of my favorite Oregon trips and adventures in Grant's Getaways book series, including:
"Escapades I grants, Photograph by Steve Terrill
The collection features hundreds of outdoor activities across Oregon and promises to be of interest to kids of all ages.
My next book, "Grant's Getaways: Another 101 Oregon Adventures" will be released on November 22.